Snackable content + 5
other content lessons
Buzzfeed taught us!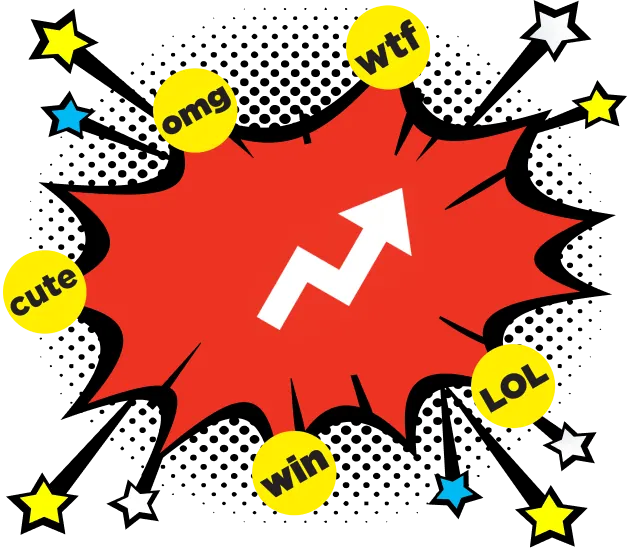 Buzzfeed News, Buzzfeed's Pulitzer Prize-winning digital news website, was shut down in April 2023 after being in publication for over ten years. It was launched as Buzzfeed's news division in 2011 and paved the way for a more conversational, easy-to-read, yet captivating style of news coverage. It changed how headlines were written and used media and formats in a way that was never done before. Many mainstream news websites and publications also followed Buzzfeed's suite. It even acquired HuffPost in 2020.
Buzzfeed News and Buzzfeed were integral to millennial pop culture and shaped their internet consumption habits. Its engagement-driven content made the internet palatable. Buzzfeed News' shutdown sparked conversations around how one of the biggest media publication houses couldn't keep up with time. The reasons are many – a decelerating digital advertising market, change in social media platforms and decrease in the conventional social media usage and unsustainable business model among others.
But there are a few things we learned from Buzzfeed that have unknowingly changed the way we (all of us) create content – not just for social media, but also for corporate websites and other digital platforms.
Here are 6 things that we learned from Buzzfeed.
1. Content you could read while snacking ((and the birth of TL:DR))
Who would have ever imagined long format articles would slowly become obsolete and people would gravitate towards bite-sized content? Buzzfeed did! They experimented with blog-style easy and conversational writing, articles that were not more than 500 words, listicles, 2-min videos, memes, quizzes, and polls and made content relatable. We loved this concept so much; it became the norm!
2. Listicles
How much do we love listicles, let us count the ways! Quick to read, easy to follow and short and crisp. Buzzfeed made the format famous and cool to read. 5 reasons to read this article, 10 reasons we love Steve Carell, pair them with a click-bait headline, it drives page views and how! Adding numbers makes an article irresistible to readers!
3. This is not clickbait
Could you even be a content creator if you aren't obsessing over your Link clicks? Buzzfeed cracked that code with its too tough to resist click-bait headlines, and we have all fallen prey to them! But Buzzfeed pushed us into putting some serious efforts into crafting smart headlines. Articles headlines went from being short and pointed to interesting ones that hooked the reader right from the beginning. And the funny part is, we didn't even realise when we transitioned. For example, an opinion piece on the New York Times is titled – 'I'm going to spoil your favorite TV show'. If this isn't click-bait, what is!
4. Visual storytelling
When was the last time you read a long form piece of content without first scrolling to the bottom to check how long it is? Our attention spans are shrinking, and we need more than words to keep us reading. Buzzfeed made long form content more engaging. Smart use of images, videos and gifs made the stories interesting, and kept you reading till the end.
5. Videos
We had all seen audio visuals, but video content was made famous by Buzzfeed. Pop vox videos, reaction videos, cat videos, food videos - 1 min recipes, 5 ingredient recipes – Buzzfeed did it all and set a very high benchmark, not just with the content but also with its production style and quality.
6. Social media integration (Same content, different avatars)
Buzzfeed showed us how to drive traffic from social media to the website. It taught us how to package the same piece of content differently for different channels and drive engagement. Buzzfeed's witty and quirky social media captions with prominent call-to-actions were heavily focused on engagement.
We don't know how long it will take for Buzzfeed to shut down completely, and it may happen sooner than later. But Buzzfeed made social media fun and the internet interesting for millennials at least. And its shutdown feels like the end of an era.
Did you enjoy Buzzfeed's content in its heydays?