How proud is your Pride!?
Happy Pride Month! You've seen brands change their logos to something more rainbow...you've seen the occasional pronoun placards and, if you're not living under a rock or in the rock ages (courtesy of Taylor Swift's You Need to Calm Down video), you've surely caught the buzz around this month through various social media campaigns!
But what does the Pride Month really mean? Is changing the logo just enough?
Pride month is a momentous and joyous occasion, observed across the world with festivities, parades, glitter and rainbows! But did you know? It started as a political act against the aggression aimed towards the LGBTQIA+ community.
The heart of Pride
At the heart of Pride Month is a call for a greater unity, visibility and equality for the LGBTQIA+ community. It is a chance for the community and its allies to come together and celebrate in a festive and affirming atmosphere. Throughout the month of June, Pride celebrations, marches, festivals, performances and gatherings are held to uplift LGBTQIA+ voices.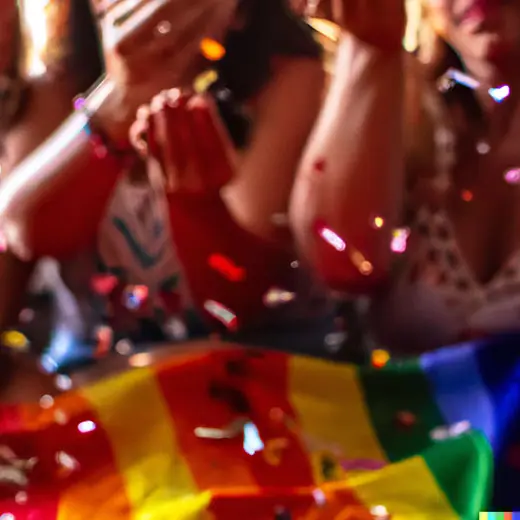 Pride month commemorates the anniversary of Stonewall riots, a series of gay liberation protests, that took place at the Stonewall inn, Manhattan, NYC in 1969 in response to police brutality against the LGBTQIA+ community. This event ignited a long struggle to bring the LGBTQIA+ community into the mainstream and guarantee their rights.
It's quite encouraging to see various brands and corporations displaying rainbow logos and engaging in social campaigns this month. But what is it that they are really communicating? Yes, it is a striking example of the strides we've made as a people to celebrate diversity and foster camaraderie among the community and its allies at large. But it is crucial to recognise that sometimes these gestures may be superficial if not accompanied by meaningful actions.
Superficial gestures often lack the essence of what Pride is to LGBTQIA+ folks!
Organisations must consciously work towards provoking meaningful conversations about issues faced by the queer community that go far beyond the celebratory month of June!
Going a step beyond rainbow logos!
Communication around Pride must go a step beyond just rainbow logos and tokenism. This month calls for a deeper reflection and understanding of what could be done to alleviate the concerns of the queer community. It's an opportunity to learn from your LGBTQIA+ peers about the struggles they may be facing on the daily to foster a better understanding of their lived experiences.
It's important to ensure that the communication around Pride month serves a greater purpose, it must allow LGBTQIA+ individuals to feel that they are valued and respected.
Assimilating with authenticity
The LGBTQIA+ community has fought to carve their space in the society and Pride month is a great opportunity for allies to be included in this space. One of the key motives of the month is assimilation while maintaining individual authenticity!
Creating inclusive spaces
What is an inclusive space? Creating inclusive spaces is easier said than done, because this requires us to recondition the way we think of heteronormative work cultures. An inclusive space allows the voices of LGBTQIA+ folks to thrive unabashedly, a space where their straight colleagues could accommodate these differences and not be irked by them.
Supporting the queer community should extend beyond Pride month and be an ongoing commitment even after! By sustaining awareness and Inclusivity throughout the year, companies can create a lasting change and work towards promoting an inclusive environment that extends beyond Pride month.
Ultimately, Pride is a recognition of diversity, difference and being true to one's nature, no matter the repercussion. It's the need to thrive in a society where one doesn't fit in but instead, cultivate and nurture spaces where people aren't afraid to be themselves. Pride is a testament to the assimilation of individuality and community. So, what does Pride mean to you?
Write to us at: subtext@ticworks.com